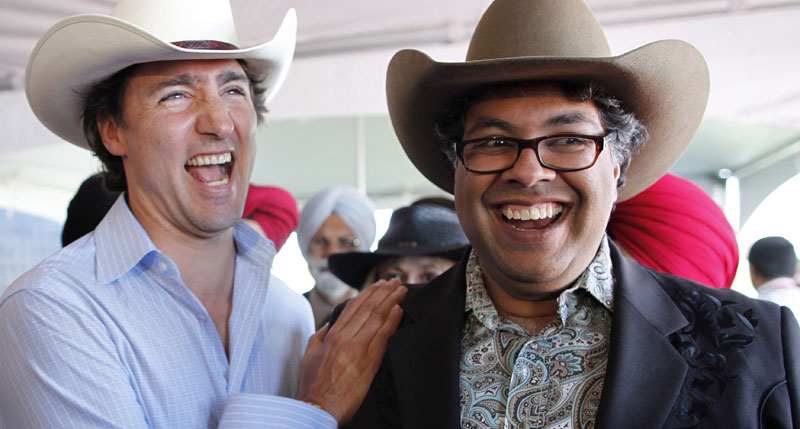 Western fashion is everywhere in Calgary during this year's Stampede, and there's no exception for politicians. But when it comes to cowboy style, experts say white jeans, sheriff badges and the wrong hats are among the fashion fumbles during the 10-day celebration of rodeo life. The Canadian Press asked Brittany Pozzi, an honest-to-goodness cowgirl, to judge seven politicians. Pozzi had no idea who any of the politicians were and so she was able to offer a non-partisan opinion.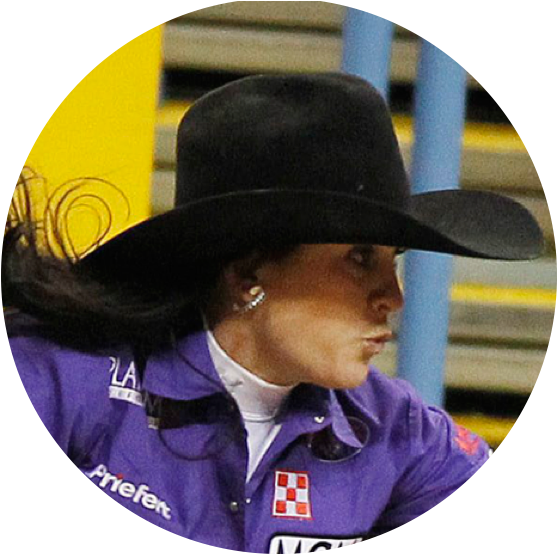 Brittany Pozzi is a champion barrel racer from Victoria, Texas, and is competing at this year's Stampede.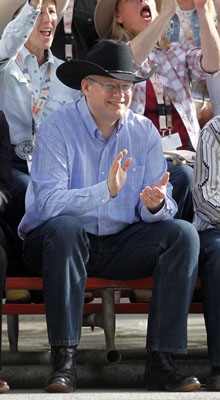 Prime Minister Stephen Harper
"This gentleman looks fairly well dressed for the rodeo. He's one of the better ones I've seen. He's got a long-sleeved shirt. The jeans probably aren't Wranglers, but he has on a nice pair of boots. He looks OK, but his hat could probably use a little more of a square shape at the front," Pozzi said.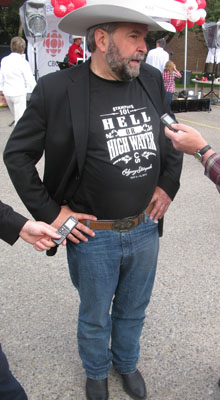 Federal NDP Leader Tom Mulcair
"He's definitely dressed for the Stampede, wearing the "Hell or High Water" T-shirt, but a sports jacket? The jeans don't appear to be Wranglers and the sports jacket is just a little bit fancy," Pozzi said.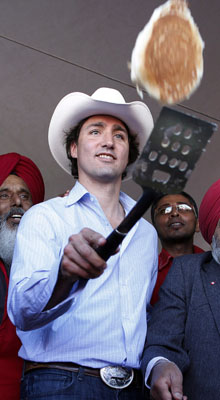 Federal Liberal Leader Justin Trudeau
"This hat is a big no-no. It's too small. I prefer a bigger brim and not so much of a taco shape, but he does have a button-down shirt on and a belt," Pozzi said.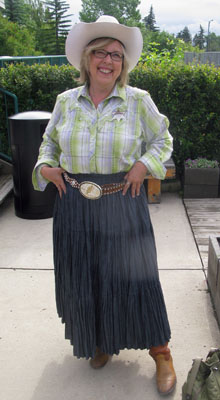 Federal Green party Leader Elizabeth May
"Definitely the broom skirt for an older woman is very fashionable at the rodeo. It is a nice look. But the sheriff pin? That's a dead giveaway. She's here to watch the rodeo," Pozzi said.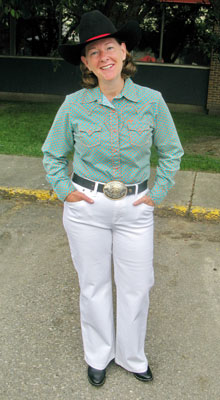 Alberta Premier Alison Redford
"This girl is dressed pretty appropriately for the rodeo, but I would say I don't see many barrel racers wearing white jeans. She has a very nice shirt on and her hat is shaped well. It's good except for the white jeans," Pozzi said.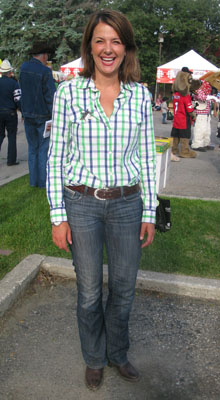 Alberta Wildrose Opposition Leader Danielle Smith
"I would say she is very appropriately dressed for the rodeo, except for the sheriff pin, but maybe that's something they all have on for some reason. I think she is very well dressed. No buckle, but I say, hey, if you didn't win one, don't wear one," Pozzi said.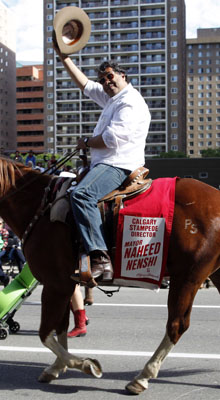 Calgary Mayor Naheed Nenshi
"Not too much of a cowboy right here. Usually when you're riding, you want your jeans a little bit longer ... and his shirt isn't tucked in. But his hat does have a nice shape. I'm impressed with his hat," Pozzi said.